Documents menu
Back-stage exit for a union diva
By Debra Jopson, Sydney Morning Herald,
10 December 1999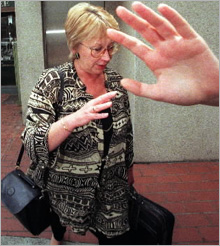 Jennie George's exit yesterday from the bosom of the trade union movement was an unceremonious dash through the busy kitchen of the Parkroyal Parramatta, down the back stairs, past a truck being loaded with clattering empty bottles and into a back lane.
After a lifetime in the public eye, the day she chose to announce she was quitting early as president of the ACTU she suddenly became media shy.
For about 10 minutes after her surprise farewell speech at the end of a three-day union talkfest, she had lingered in the conference room, smoking, surrounded by about 10 women admirers to whom she said: I couldn't have done it all without you.
Outside, after making a false turn into a car park, she dashed back down the lane, at first refusing to comment, saying she was too emotional. Then she relented.
It's my call. I wanted to go out on a high. This is the culmination of the second wave [of the Federal Government's Workplace Relations legislation being rejected by the Senate]. I'm leaving the organisation in good shape.
Where was she going? I don't know. Did she plan a good rest? Yes. Would she pose for a photo? No, she said, she felt too emotional. There would be a press conference on March 8.
The kitchen capers, after a teary farewell speech to her union colleagues, were designed to evade her biographer, Brad Norington, and Herald photographer Peter Rae, who were waiting outside the meeting room front doors.
Rae attempted to photograph her - a public figure in a public place who had just made big news. Ms George kept dodging him. A minder put her hand up to stop the picture being taken. Back at the hotel entrance, a second woman grabbed at Rae's camera.
Inside the foyer, Ms George agreed to a photograph with ACTU secretary Mr Greg Combet, who apologised to the photographer and journalists over the fracas.
The low-key announcement - made to about 80 remaining attendees, slouching over scrunched lolly wrappers and doodles - was now high-key. The unionists were feeling emotional, Mr Combet said.
After the announcement, some had seemed stunned and others tired, as Ms George thanked her staff and her own union, the NSW Teachers Federation. The sweetest moment for her, she said, was cutting back Mr Reith's industry reforms.
Some women cried. On stage, while Mr Combet hailed her as a great campaigner, Ms George dabbed at her nose with a tissue.
Then she dabbed make-up on the tear stains and stepped down to hug women supporters. The men left the circle of sisters to a few moments of grieving.