Documents menu
---
South Africa to host World Labour Summit
in 2000
ICFTU OnLine, 257/981125/LD, 25 November 1998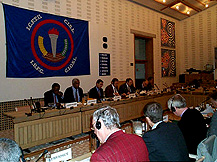 ICFTU leaders presiding over the annual ICFTU executive board meeting taking place in Elsinore, Denmark
Elsinore, Denmark, 25 November 1998 (ICFTU OnLine): South Africa will host the next World Congress of the International Confederation of Free Trade Unions (ICFTU), to be held in the early months of the year 2000. The decision was made today by members of the ICFTU Executive Board, representing trade unions from over one hundred countries, at the Board's annual session hosted in Elsinore by the Danish Federation of Trade Unions (LO).
The Board welcomed the invitation from the ICFTU's affiliates in South Africa (Cosatu, Nactu and Fedusa) and considered the opportunity to organise its congress in South Africa both a tribute to the courageous South African trade unions' fight against the apartheid regime and a recognition of the role played by the whole of international democratic trade union movement. "It will also be an opportunity for us to show support for the difficult task confronting South African trade unions in their efforts to build solid social and economic foundations for their young democracy," added Bill Jordan, ICFTU General Secretary.
The Board had a preliminary discussion on the themes to be debated at congress, which will centre on trade union action to mobilise workers world-wide to promote "social justice and democracy in a globalised economy." During its three-day meeting the Board will also discuss an internationally co-ordinated trade union response to the present world economic crisis and examine its impact on the different continents.
Around 1,000 delegates representing trade unions from over 150 countries are expected to attend the ICFTU's next Congress, which will be the largest ever gathering of the world's labour movement.
The ICFTU Congress is the ICFTU's highest-decision making body. It meets every four years and elects the ICFTU Executive Board and its General Secretary. The last ICFTU Congress took place in Brussels in 1996. Previous congresses were held in Caracas (1992), Melbourne (1988), Oslo (1983) and Madrid (1979). The South Africa Congress will be the second to be held on the African continent, the first being Tunis (1957).


Representatives from national trade union centres participating at the annual ICFTU executive board meeting, taking place in Elsinore, Denmark
The ICFTU, which celebrates its 50th anniversary next year, is the world's largest trade union body. It is based in Brussels and groups 206 national trade union centres in 141 countries representing a total membership of 125 millions workers world-wide.
For more details contact Luc Demaret, ICFTU Press, at++4549280948 or the ICFTU Press office in Brussels ++32 2 224.02.02. International Confederation of Free Trade Unions (ICFTU) Boulevard Emile Jacqmain 155, B - 1210 Brussels, Belgium.
For more information please contact: Luc Demaret on: 00 322 224 0212 - press@icftu.org
---