Documents menu
National Commission Says Referendum 'Ready to Go'
UN Integrated Regional Information Network, 30 May 2001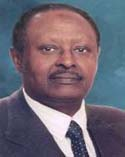 Hargeysa—With the loudspeaker on the roof and posters plastered on the windows, Abdiqadir Jirde, vice-chairman of the National Referendum Commission, drives around making last-minute preparations and spot-checks in Hargeysa, capital of the self-declared state of Somaliland in northwestern Somalia. Everything is in place and we are ready to go, he told IRIN. The commission has been preparing for the 31 May referendum on independence since 26 April, when Somaliland President Muhammad Ibrahim Egal nominated its members to carry out the difficult task. There has been little time for voter education and publicity—and even the staunchest yes voters have complained about the organisation of the referendum.
But Abdiqadir will hear nothing of it. We want to prove our identity and we want to prove that not all Somalis are hopeless. We have prepared this without any external help, and we feel fantastic, he said, as he took another call on his mobile phone—this time from North America. The diaspora have contributed a lot, and they all individually need to check that their donation got through and things are in place.
When northern Somalia was bombed in 1988, most of the people fled across the borders to neighbouring Ethiopia and Djibouti—and further afield—to escape brutal counterinsurgency policies by former military dictator Muhammad Siyad Barre. When his regime collapsed in 1991, Somaliland declared unilateral independence—but has never received international recognition. Now, Somaliland President Muhammad Ibrahim Egal has asked people to vote on a new constitution, which includes an article on the independent status of Somaliland. There has been no external funding, despite requests, but three delegations of international observers arrived this week—from South Africa, the United States, and Ethiopia.
Ballot boxes—white for yes votes and black for no votes—have been distributed from Hargeysa to district referendum bureaus, which are responsible for transporting them out to the designating polling stations. By Wednesday at midday, some district referendum commissions still had to collect the boxes. Distribution of the ballot boxes started in earnest about five days ago, starting with Sool Region. District officials are held responsible for hiring trucks to transport the boxes, or mobilising local drivers and businessmen to help. There are 37 districts in all, including the capital, Hargeysa, which has temporarily been split up into five districts. The largest region, according to Abdiqadir, is Burao, with 40 polling stations, with Awdal (Borama) next with 33. Hargeysa has 85 polling stations—with some of the outlying ones still being hastily prepared the day before the vote.
Voting will start at 0600 on Thursday and finish at 1800, but polling stations are allowed to continue up to 2200 (local times) if people are still queueing. According to the National Referendum Commission, counting will start early on Friday morning , and—depending on the logistics for some of the remoter areas—results are expected to be in by Sunday. Abdiqadir told IRIN that the total vote would be announced, and that data from the districts and regions would be stored by the administration.
Dismissing complaints that preparations had been rushed, the vice-chairman of the commission said he felt satisfied that some 10,000 copies of the constitution in Somali and Arabic distributed since October had sufficiently informed the voters. Voter education has been carried out through drama, the media, public address systems, songs and poems. Abdiqadir said his only concern was that there may be low voter turnout because of the difficulties of travelling to polling stations.
But others say that low voter turnout may be for other reasons. In Borama, observers say Somali flags have been seen flying on the rooftops, and more than a few have declared themselves unwilling to vote for independence. Like other areas inhabited by clans other than the dominant Isaq, there is either ambiguity or positive hostility to the idea of the referendum. Government officials are out campaigning and, observers say, security forces have been beefed up in some areas. Others say that voters in the regions have little idea of what they are really voting for, and may confuse the vote with a yes or no for Egal.
There is also some concern over how the referendum may—or may not—proceed in Sool and Sanaag, which are regions inhabited by clans associated with those in the neighbouring self-declared autonomous region of Puntland in northeastern Somalia. A local source said that elders in the two regions had received money from all parties—those for and those against the referendum. Abdiqadir, however, dismisses talk of the controversial areas. They are not controversial. The ballot boxes are in place, and the vote will go ahead.
There is little doubt of what the outcome will be, say observers. While there may be regional spoilers and a low voter turnout, generally a determined yes for independence is being voiced by Somalilanders. Posters on the walls of buildings and on the windows of cars show the white and black boxes, with the invitation to take the choice. Some graphically illustrate executions and killings as reminders of past atrocities—we don't need to remind ourselves of what happened, but the world needs to know why we want independence, said one woman.