Documents menu
Timeline: Equatorial Guinea
BBC News, Tuesday 25 May 2004, 07:12 GMT 08:12 UK
A chronology of key events
1471—Portuguese navigator Fernao do Po sights the island of Fernando Poo, which is now called Bioko.
1477—Portugal cedes Fernando Poo to Spain.
1844—Spanish settle in what became the province of Rio Muni—mainland Equatorial Guinea.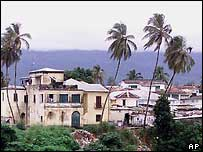 Malabo:
Capital on the rim of a sunken volcano
Population: 60,065
Called Santa Isabel until 1973
1904
—Fernando Poo and Rio Muni become the Western African Territories, later renamed Spanish Guinea.
1968—Spanish Guinea granted independence and becomes the Republic of Equatorial Guinea with Francisco Macias Nguema as president.
1972—Nguema becomes president for life.
1979—Nguema ousted in military coup led by his nephew, Teodoro Obiang Nguema Mbasogo.
Elections boycott
1993—First multiparty elections take place but are generally condemned as fraudulent and are boycotted by the opposition.
1996 February—President Obiang Nguema wins 99% of votes in election amid reports of widespread irregularities.
1996 March—Mobil oil corporation announces it has discovered sizeable new oil and gas reserves.
Poor human rights record
1998 January—Amnesty International reports the arrest of scores of people—mostly from the Bubi minority—in the wake of attacks on military posts on Bioko island.
1998 June—Military tribunal sentences 15 people to death for separatist attacks on Bioko island.
1999 March—Ruling Democratic Party of Equatorial Guinea wins majority of seats in parliamentary elections condemned as fraudulent. Dozens of members of main opposition Popular Union are arrested.
Oil boost
2001—Economy emerges as one of world's fastest-growing because of oil exploitation. Opposition says trickle-down effect of growth is too slow, too small.
2001 March—Eight exiled opposition parties form a coalition in Spain to overhaul politics at home, saying democracy under Obiang is a sham.
2001 July—Exiled politician Florentino Ecomo Nsogo, head of the Party of Reconstruction and Social Well-Being (PRBS), returns home as the first opposition figure to respond to an appeal by President Obiang Nguema, who wants opposition parties to register.
2002 June—Court jails 68 people for up to 20 years for alleged coup plot against President Obiang Nguema. They include main opposition leader Placido Mico Abogo. EU is concerned that confessions were obtained under duress. Amnesty International says many defendants showed signs of torture.
2002 December—President Obiang Nguema re-elected. Authorities say he won 100% of the vote. Opposition leaders had pulled out of the poll, citing fraud and irregularities.
2003 August—Exiled opposition leaders form self-proclaimed government-in-exile in Madrid, Spain.
Opposition leader Placido Mico Abogo and 17 other political prisoners released.
2004 March—Alleged coup attempt: President Obiang says 15 mercenaries arrested; group is linked to suspected mercenaries detained in Zimbabwe. Crackdown on immigrants ensues; hundreds of foreigners deported.
2004 April—Parliamentary, municipal elections: President Obiang's Democratic Party of Equatorial Guinea (PDGE) and allied parties take 98 of 100 seats in parliament and all but seven of 244 municipal posts. Foreign observers criticise both poll and result.