Documents menu
Timeline: Democratic Republic of Congo
BBC News Online, Friday, 11 June 2004, 09:04 GMT 10:04 UK
A chronology of key events
1200s—Rise of Kongo empire, centred in modern northern Angola and including extreme western Congo and territories round lakes Kisale and Upemba in central Katanga (now Shaba).
1482—Portuguese navigator Diogo Cao becomes the first European to visit the Congo; Portuguese set up ties with the king of Kongo.
16th-17th centuries—British, Dutch, Portuguese and French merchants engage in slave trade through Kongo intermediaries.
1870s—Belgian King Leopold II sets up a private venture to colonise Kongo.
1874-77—British explorer Henry Stanley navigates Congo river to the Atlantic Ocean.
Belgian colonisation
1879-87—Leopold commissions Stanley to establish the king's authority in the Congo basin.
1884-85—European powers at the Conference of Berlin recognise Leopold's claim to the Congo basin.
1885—Leopold announces the establishment of the Congo Free State, headed by himself.
1891-92—Belgians conquer Katanga.
1892-94—Eastern Congo wrested from the control of East African Arab and Swahili-speaking traders.
1908—Belgian state annexes Congo amid protests over killings and atrocities carried out on a mass scale by Leopold's agents. Millions of Congolese are said to have been killed or worked to death during Leopold's control of the territory.
1955—Belgian Professor Antoin van Bilsen publishes a "30-Year Plan" for granting the Congo increased self-government.
1959—Belgium begins to lose control over events in the Congo following serious nationalist riots in Leopoldville (now Kinshasa).
Post-independence turmoil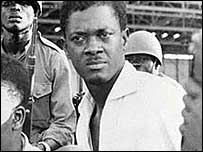 Patrice Lumumba: charismatic leader's murder widely blamed on Belgium, US
1960 June
—Congo becomes independent with Patrice Lumumba as prime minister and Joseph Kasavubu as president.
1960 July—Congolese army mutinies; Moise Tshombe declares Katanga independent; Belgian troops sent in ostensibly to protect Belgian citizens and mining interests; UN Security Council votes to send in troops to help establish order, but the troops are not allowed to intervene in internal affairs.
1960 September—Kasavubu dismisses Lumumba as prime minister.
1960 December—Lumumba arrested.
1961 February—Lumumba murdered, reportedly with US and Belgian complicity.
1961 August—UN troops begin disarming Katangese soldiers.
1963—Tshombe agrees to end Katanga's secession.
1964—President Kasavubu appoints Tshombe prime minister.
Mobutu years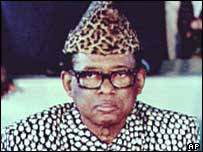 Late president Mobutu, thought to have amassed a $4 billion fortune
1965
—Kasavubu and Tshombe ousted in a coup led by Joseph Mobutu.
1971—Joseph Mobutu renames the country Zaire and himself Mobutu Sese Seko; also Katanga becomes Shaba and the river Congo becomes the river Zaire.
1973-74—Mobutu nationalises many foreign-owned firms and forces European investors out of the country.
1977—Mobutu invites foreign investors back, without much success; French, Belgian and Moroccan troops help repulse attack on Katanga by Angolan-based rebels.
1989—Zaire defaults on loans from Belgium, resulting in a cancellation of development programmes and increased deterioration of the economy.
1990—Mobutu agrees to end the ban on multiparty politics and appoints a transitional government, but retains substantial powers.
1991—Following riots in Kinshasa by unpaid soldiers, Mobutu agrees to a coalition government with opposition leaders, but retains control of the security apparatus and important ministries.
1993—Rival pro-and anti-Mobutu governments created.
1994—Mobutu agrees to the appointment of Kengo Wa Dondo, an advocate of austerity and free-market reforms, as prime minister.
1996-97—Tutsi rebels capture much of eastern Zaire while Mobutu is abroad for medical treatment.
Aftermath of Mobutu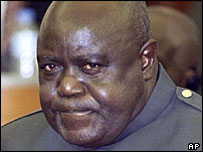 Laurent Kabila toppled Mobutu but failed to improve Congolese people's lot
1997 May
—Tutsi and other anti-Mobutu rebels, aided principally by Rwanda, capture the capital, Kinshasa; Zaire is renamed the Democratic Republic of Congo; Laurent-Desire Kabila installed as president.
1998 August—Rebels backed by Rwanda and Uganda rise up against Kabila and advance on Kinshasa. Zimbabwe, Namibia send troops to repel them. Angolan troops also side with Kabila. The rebels take control of much of the east of DR Congo.
1999—Rifts emerge between Congolese Liberation Movement (MLC) rebels supported by Uganda and Rally for Congolese Democracy (RCD) rebels backed by Rwanda.
Lusaka peace accord signed
1999 July—The six African countries involved in the war sign a ceasefire accord in Lusaka. The following month the MLC and RCD rebel groups sign the accord.
2000—UN Security Council authorises a 5,500-strong UN force to monitor the ceasefire but fighting continues between rebels and government forces, and between Rwandan and Ugandan forces.
2001 January—President Laurent Kabila is shot dead by a bodyguard. Joseph Kabila succeeds his father.
2001 February—Kabila meets Rwandan President Paul Kagame in Washington. Rwanda, Uganda and the rebels agree to a UN pull-out plan. Uganda, Rwanda begin pulling troops back from the frontline.
2001 May—US refugee agency says the war has killed 2.5 million people, directly or indirectly, since August 1998. Later, a UN panel says the warring parties are deliberately prolonging the conflict to plunder gold, diamonds, timber and coltan, used in the making of mobile phones.
2002 January—Eruption of Mount Nyiragongo devastates much of the city of Goma.
Search for peace
2002 April—Peace talks in South Africa: Kinshasa signs a power-sharing deal with Ugandan-backed rebels, under which the MLC leader would be premier. Rwandan-backed RCD rebels reject the deal.
2002 July—Presidents of DR Congo and Rwanda sign a peace deal under which Rwanda will withdraw troops from the east and DR Congo will disarm and arrest Rwandan Hutu gunmen blamed for the killing of the Tutsi minority in Rwanda's 1994 genocide.
2002 September—Presidents of DR Congo and Uganda sign peace accord under which Ugandan troops will leave DR Congo.
2002 September/October—Uganda, Rwanda say they have withdrawn most of their forces from the east but local militias take advantage of the vacuum left by the troop departure. UN-sponsored talks begin in South Africa, with the Kinshasa government and the two main rebel groups discussing power-sharing plans.
2002 December—Peace deal signed in South Africa between Kinshasa government and main rebel groups. Under the deal rebels and opposition members are to be given portfolios in an interim government.
New constitution
2003 April—President Kabila signs a new constitution, under which an interim government will rule for two years, pending elections. The constitution was drawn up at talks in South Africa between DR Congo's warring factions.
2003 May—Last Ugandan troops leave eastern DR Congo as reports emerge of bloody clashes between rival militias in Bunia area.
2003 June—French soldiers arrive in Bunia, spearheading a UN-mandated rapid-reaction force.
President Kabila names a transitional government to lead DR Congo until democratic elections take place in two years time. Leaders of the main former rebel groups are sworn in as vice-presidents in July.
2003 August—Interim parliament inaugurated.
2003 December—Former government soldiers and those of two main rebel groups form a united force.
2004 March—Gunmen attack military bases in Kinshasa in an apparent coup attempt.
2004 June—Rebel soldiers occupy eastern border town of Bukavu for a week. Government accuses Rwanda of supporting rebels. Protests in Kinshasa over UN's failure to prevent town's capture turn violent.
Reported coup attempt by rebel guards is said to have been neutralised.