Documents menu
---
Death for Burundi assassins. President Ndadaye was killed during a military coup attempt
BBC News, Friday 14 May 1999, Published at 21:35 GMT 22:35 UK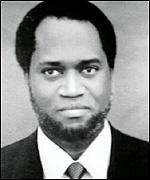 President Ndadaye was killed just four months after winning power

The Supreme Court in Burundi has sentenced five soldiers to death for the assassination of the country's first democratically-elected president during a coup attempt in 1993.

The killling of Melchior Ndadaye, a Hutu, by hardline Tutsi soldiers led to several years of civil war between the two ethnic groups, in which an estimated 200,000 people died.

Lieutenant Paul Kamana, currently in exile in Uganda, was sentenced to death, along with Laurence Nzeyimana, Juvenal Gahungu, Sylvere Nduwumukama and Emmanuel Ndayizeye.

It is not clear when the sentences will be carried out. Others received jail terms of between one and 20 years, while 38 people were acquitted - among them the former minister of defence and army chief of staff, Jean Bikumagu.

A UN report into the assassination and the subsequent massacres implicated Mr Bikumagu in the murder and said he was in full control of the army during the coup attempt.

Nearly all the accused were Tutsis. Hutus make up more than four-fifths of the poulation of Burundi, but the Tutsis have had almost total control of the army and government since the country gained independence in 1962.
Verdict criticised
Hutu opposition leaders described the verdicts as a sham, saying that most of the senior officials charged with invovement in the killing had been acquitted.
They said the outcome could damage peace talks aimed at bringing an end to the ongoing ethnic violence that followed Mr Ndadaye's assassination.
Lawyer Fabien Segatwa, who represented the late president, dismissed the trial as a political showcase designed to appease those who planned the killing.
"This trial is a farce," he said before the verdict was announced. "We have never found the real brains of this coup. The people who will be condemned will be only those who carried out the order to kill the president."
Burundi's main Hutu party, Frodebu, remained in power for three years after 1993, until Pierre Buyoya seized control in an army coup in July 1996.
Since then the scale of violence has diminished, though fighting continues in parts of the country.
---