Documents menu
---
Workers demonstrate against the iGoli 2002 plan
SABC News, 3 July 2000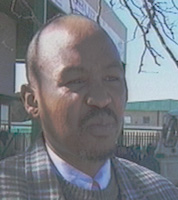 SAMWU leader, Veli Mahlangu is vehemently opposed to iGoli 2002

Hundreds of Johannesburg Municipal workers took to the streets this morning to protest against the city's iGoli 2002 privatisation plan.

This follows the decision by the city's council to go ahead with the first phase of its implementation plan which will result in four of the council's assets being taken over by private companies.

The plan proceeds despite an agreement reached last week between workers and the council to put the process on hold.

Police were deployed in the city centre to monitor the unplanned protest action by the workers. The workers protesting against the privatisation plan manoeuvred refuse trucks and rubbish bins into busy roads blocking traffic.

Some of the streets affected by the protest include Sauer, Fraser and Market. The police were forced to use force to remove the trucks on the road in effort to re-open roads for traffic.

South African Municipal Worker's Union (SAMWU) leader Veli Mahlangu said the action was triggered by letters submitted to the employees notifying them of their transference to certain companies under the iGoli 2002 project.

"We remain opposed to Igoli 2002 plan because we knew it will bring this kind of problems to the workers", said Mahlangu.

The council's Labour Relations Specialist Magane Thobejane said the council will continue with the implementation regardless of whatever happens.

"We have got activities planned to ensure that we proceed with the implementation, but of course there is an attempt to ensure that we reach a collective agreement", said Thobejane.

The Unions have planned a protest action on the 11th this month to highlight the plight confronting them as a result of the plan.
---