Documents menu
---
Banana strikers return to work
BBC News, Wednesday 29 August 2001, 20:09 GMT 21:09 UK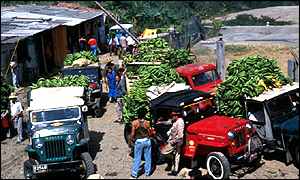 Banana workers in Latin America have returned to work after strikes in Ecuador and Panama. In Peru, 3,250 striking employees of a subsidiary of US group Chiquita Brands International have given up their 10-day stoppage without a new deal on the table.
The Sitrachilco union, which called the industrial action to try to force Chiquita unit PAFCO to reopen three unprofitable plantations closed in June, said it has decided to look for a negotiated solution instead.
Government estimates suggest the strike has cost PAFCO over $1m (£688,000) a week and has put paid to nearly a third of Panama's normal export volume.
The banana business was already suffering after bad weather and stringent quality demands from exporters saw overall export volume in the first six months of the year drop 12.9%.
Producers down tools
In contrast, it is Ecuador's indigenous producers who have been protesting, in an attempt to force exporters to play fair.
Their 11-day action came to an end today after the government stepped in to ensure that the exporters pay the official price - currently $2.90 a box - that it sets for the crop every three months.
Falling prices on international markets have encouraged exporters to force their suppliers to accept lower rates.
Government steps in
In response the president, Gustavo Noboa, decreed that a trust, to be administered by the state farming credit body the Corporacion Financiera Nacional, will guarantee the minimum price.
At a cost of about $22m a year, it will receive exporters' payments and distribute the funds to the producers, reporting weekly on its activities.
The government's action means the blockades thrown up across roads throughout the Andean country roads on 16 August are being taken down.
Banana wars
Central American banana growers - in an industry dominated by Chiquita and Dole, both US companies - have been hoping that their trade will improve ever since the US forced the European Union to stop favouring bananas from the Caribbean.
The two sides reached a deal this year, two years after the US imposed sanctions on a range of European products.
Under the new deal, the EU agreed to gradually increase its quotas for bananas grown in Latin America until 2006, when all preferential quotas will be eliminated.
Ecuador had objected to the deal, saying it was too favourable to the two US companies and failed to do enough for smaller locally-based producers.
---