Documents menu
Aristide registers his candidacy
Haiti Progrès,

This Week in Haiti,
Vol. 18, no. 30, 11-17 October 2000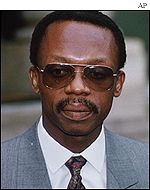 On Oct. 9, a crowd of over 20,000 (Haitian National Television estimated 40,000) massed in front of the offices of the Provisional Electoral Council office (CEP) on the Delmas road as former president Jean-Bertrand Aristide finally enrolled as a presidential candidate.
Accompanying him were several prominent members of his Fanmi Lavalas party (FL), including senator Yvon Neptune, ex-minister and advisor Jean-Marie Chérestal, and his wife Mildred. Also enrolling as an FL Senate candidate was Myrlande Libérus Pavert, administrator of the Aristide Foundation for Democracy.
Aristide declared: It is with great pride that I stroke the head of the Haitian people, who are thirsting for peace... Fanmi Lavalas joins with me in saying to the Haitian people that you can count on us, just as we count on you. We are on the road for 2001. The year 2001 can only be promising because we are working to establish peace in the head and peace in the stomach.
Traffic along the Delmas thoroughfare was completely blocked by the giant throng. Hundreds expecting Aristide had also turned out on Oct. 2, originally the last day for candidates to register. But the CEP extended the deadline by one week. There are now a total of six presidential candidates.