Documents menu
---
Police Seek Ex-Militant In Slaying
By Peter Slevin, Washington Post, Saturday 18 March 2000; A01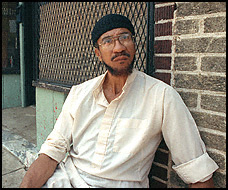 Police were searching Atlanta neighborhoods yesterday for Jamil Abdullah Al-Amin--better known as 1960s black militant H. Rap Brown--after he allegedly shot and killed a sheriff's deputy who tried to arrest him on a theft charge.
Al-Amin, once the angry embodiment of the black power movement, later a famous name on the FBI's Most Wanted List, fled into the night after opening fire late Thursday on two deputies who had ordered him to get out of his black Mercedes Benz, according to Atlanta police.
Police followed a trail of blood to a vacant house, but Al-Amin was not there.
Fulton County Sheriff's Deputy Ricky Kinchen died after being shot twice. In an Atlanta hospital, surviving Deputy Aldranon English pointed yesterday to a photograph of the tall, thin 56-year-old Al-Amin and named him as the man who shot him four times.
The manhunt focused on the neighborhood where Al-Amin has quietly operated a grocery store for more than two decades. Nearby, residents spoke of the onetime firebrand as a peaceable community worker and the imam of the Community Mosque, a house of worship he founded after moving to Atlanta in the 1970s.
Two former colleagues of Al-Amin's in the black radical movement spoke words of praise and caution yesterday, wanting to know more before concluding that Al-Amin could have been the man with the gun.
"I hope he is not tried in the press," said James Forman, the former executive director of the Student Non-Violent Coordinating Committee (SNCC), who lives in Adams-Morgan. "I hope that it's not a frame-up. H. Rap Brown has been chased down and falsely imprisoned on many, many occasions. He was a champion fighter for human rights."
David Hilliard, the former Black Panther chief of staff who recently lost a bid for the City Council in Oakland, Calif., said, "I'm waiting to see what's revealed when Brother Al-Amin can speak for himself." He called Al-Amin a "very charismatic, very dynamic personality who was an outspoken, powerful orator and one of the best organizers in the movement."
"They were our heroes," Hilliard said of Al-Amin and other SNCC leaders. "They took a very courageous stand organizing and registering people to vote in the South where there were overt racists not just standing in the school house door but still lynching and killing people."
It was the loose ends of a 1999 case that led to Thursday's drama behind Al-Amin's grocery store. The deputies were dispatched to arrest Al-Amin after he failed to appear for trial in Cobb County on a charge that he impersonated a police officer and accepted stolen property.
The deputies knocked on the door of the store but found no one in, Atlanta Police Chief Beverly Harvard told reporters yesterday. They drove through the neighborhood and saw Al-Amin in his Mercedes upon their return. The deputies told him to get out of his car. One asked to see Al-Amin's hands.
"Okay, here they are," Al-Amin said, and opened fire, according to Harvard.
The alleged gunman fled after Kinchen, 35, and English, 28, fell. Police thought they had cornered him inside a nearby house, but when they burst in, they found no one, though they saw what they thought was his blood.
Kinchen, shot in the lower abdomen and left thigh, lived barely 12 more hours, said Atlanta police Sgt. Clarence Huber. English was hit twice in the left arm, once in the right side and once in the left thigh, but was able to talk to investigators. Huber said English, weak and in serious condition, could reveal what he knows only slowly.
Al-Amin rose to prominence in the late 1960s while urging black Americans to use violence, if necessary, to challenge white power. Preaching that justice sometimes requires militancy in a country that won its independence by force, he once said that "violence is as American as cherry pie."
As H. Rap Brown, he was the chairman of SNCC when police said his incendiary speechmaking on Maryland's Eastern Shore led to arson and disorder in Cambridge. What happened that day led Congress to pass what became known as the "Rap Brown Law," which made it a federal felony to cross a state line to trigger a riot. He also once served as minister of justice for the Black Panthers and was a student at Howard University.
"It's time for Cambridge to explode, baby," Brown told a crowd of several hundred on July 24, 1967. "Black folks built America, and if America don't come around, we're going to burn America down."
Charged with inciting a riot, Brown disappeared in March 1970 after two of his friends died in an automobile bomb blast in Bel Air, Md., on the eve of his trial. The FBI put him on its Most Wanted List, where he stayed for 17 months.
Brown surfaced in a violent way, New York police later said, when he joined three men to rob the Red Carpet Lounge, a basement taproom on New York's Upper West Side. He was captured on the roof of a nearby apartment building after a patrol officer chased and shot him. He spent five years in prison, converted to Islam, changed his name and moved to Atlanta after his 1976 release.
Police charged Al-Amin in 1995 with shooting an Atlanta man named William Miles. They said he was carrying an unlicensed pistol when arrested. The 22-year-old Miles later recanted, telling authorities that detectives had pressured him into naming Al-Amin as his attacker.
---
Staff writer Michael A. Fletcher contributed to this report.
---