Documents menu
Words for striking Memphis sanitation workers (1968)
By the Reverend Martin Luther King, Jr., Workers World, 14 January 2006, 9:31 PM
Martin Luther King Jr. said these words to striking Memphis sanitation workers the day before he was assassinated in April 1968. This Monday, Jan. 16, is Martin Luther King Day, a national holiday honoring the Civil Rights leader and the movement he led.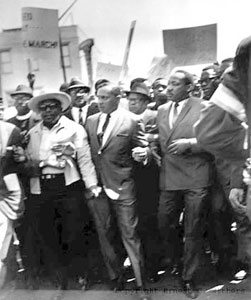 We are saying that we are determined to be men. We are saying that we are determined to be men. We are determined to be people. We are saying that we are God's children. And that we don't have to live like we are forced to live.
The issue is injustice. The issue is the refusal of Memphis to be fair and honest in its dealings with its public servants, who happen to be sanitation workers.... Now we're going to march again, and we've got to march again, in order to put the issue where it is supposed to be.... and we've got to say to the nation we know it's coming out. For when people get caught up with that which is right and they are willing to sacrifice for it, there is no stopping point short of victory.... we've got to give ourselves to this struggle until the end. Nothing would be more tragic than to stop at this point, in Memphis.
And when we have our march, you need to be there.
Be concerned about your brother. You may not be on strike. But either we go up together, or we go down together.