Documents menu
---
Kazakhstan
BBC Country Profile, 11 May 2001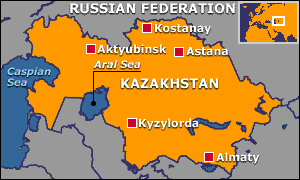 A huge country covering a territory equivalent to the whole of Western Europe, Kazakhstan has vast mineral resources and considerable economic potential. However, one decade after independence, and despite generous foreign investments, its people continue to suffer serious hardship.
OVERVIEW
Kazakhstan has a most varied landscape, stretching from the mountainous, heavily populated regions of the east to the sparsely populated, energy-rich lowlands in the west, and from the industrialised north, with its Siberian climate and terrain, through the arid, empty steppes of the centre, to the fertile south.
Ethnically, the country is as diverse, with the Kazakhs making up over half the population, the Russians comprising just over a quarter, and smaller minorities of Ukrainians, Germans, Chechens, Kurds, Koreans and Central Asian ethnic groups accounting for the rest. These groups generally live in harmony, though ethnic Russians resent the lack of dual citizenship and having to pass a Kazakh language test in order to work for government or state bodies.
Kazakhstan has been largely unable to benefit from its huge energy reserves due to the lack of adequate export pipelines. However, while the opening in March 2001 of a pipeline linking the Tengiz oil field in the west to the Russian Black Sea port of Novorossiysk will potentially transform the economy, Kazakhstan faces other daunting challenges.
These include a dilapidated infrastructure, high unemployment, inflation, poverty, prostitution, drug addiction and Aids. Contamination caused by Soviet-era nuclear tests in Semipalatinsk is also a problem, as are the dumping of toxic waste and the jettisoning of rocket fuel by Russian space vehicles launched from Baykonur, and the drying up of the Aral Sea.
FACTS
Population: 15 million
Capital: Astana
Major languages: Kazakh, Russian
Major religions: Islam, Christianity
Form of government: Multi-party republic
Monetary unit: 1 Kazakh tenge = 100 tiyn
Main exports: Oil, ferrous and nonferrous metals, machinery, chemicals, grain, wool, meat, coal
Internet domain: .kz
Time zone: GMT+7
International dialling code: +7
LEADERS
President: Nursultan Abish-uly Nazarbayev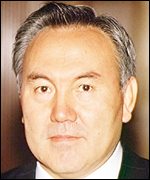 President Nazarbayev

Born in 1940, Nazarbayev came to power in 1989 as first secretary of the Communist Party of Kazakhstan and was elected president the following year. He was re-elected after the break-up of the Soviet Union in 1991.

Despite advocating democracy, Nazarbayev has concentrated extensive powers in his own hands and has sought to extend his tenure - first, by virtue of a referendum in 1995, which extended his term of office until 2000, and then in the 1999 election, from which a major opposition contender was barred.

Nonetheless, his supporters credit him with managing to preserve inter-ethnic accord and stability during the harsh reform years.

Prime minister: Kasymzhomart Tokayev

Defence minister: Sat Tokpakbayev

Foreign minister: Yerlan Idrisov

Interior minister: Bolat Iskakov

Finance minister: Mazhit Yesenbayev
MEDIA
The Kazakh government has proposed amendments to the country's media law, which will cut the rebroadcasting of foreign programmes by Kazakh television channels. Analysts regard this move as a threat to the freedom of the media in Kazakhstan.
Under the new code of administrative offences, media outlets could be penalised, fined, have their licences revoked and their property confiscated.
Observers see a raid by the tax police on a radio station in Almaty in early 2001 as one episode in a battle between two of the president's sons-in-law and a former prime minister for control over the media and lucrative advertising revenues.
The president's eldest daughter, Dariga Nazarbayeva, heads Khabar TV, and is married to Rakhat Aliyev, deputy chairman of the National Security Committee and formerly head of the tax police, who has his own major media holding company.
Criminal proceedings have been instituted against several popular opposition newspapers, which have been barred from using the country's printing houses.
The press
Kazakhstanskaya Pravda - government-backed, published in Russian five times a week
Yegemen Qazaqstan - government-backed, published in Kazakh five times a week
Ekspress-K - privately-owned pro-government, published in Russian five times a week
Zhas Alash - privately-owned, pro-government, published in Kazakh four times a week
XXI Vek - privately-owned, Russian-language opposition weekly
Nachnem s ponedelnika - privately-owned, Russian-language opposition weekly
Television
Khabar TV, state-owned, broadcasts in Kazakh and Russian
Kazakh TV (first channel) - state-owned, broadcasts in Kazakh and Russian
Kazakh Commercial TV - privately-owned, broadcasts in Kazakh and Russian
Radio
Kazakh Radio, state-owned, broadcasts in Kazakh and Russian
News agencies
Kazakhstan Today agency
Kazakhstan Press agency
Koda news agency
---
Country profiles are compiled by BBC Monitoring
---