Documents menu
---
Oil-rich Kazakhstan opens pipeline
BBC, Monday, 26 March 2001, 15:13 GMT 16:13 UK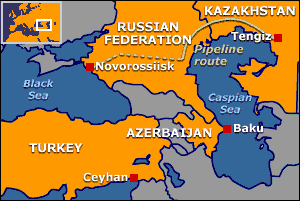 Kazakhstan has opened the first major pipeline offering a direct link between Caspian oil fields and international markets.
Kazakh Prime Minister, Kasymzhomart Tokayev, turned on the tap on the 1,580-kilometre (950-mile) link via Russia, which analysts say strengthens Moscow's hand in the race to control the region's oil.
The pipeline runs from the huge Tengiz oil field in western Kazakhstan to the Russian Black Sea port of Novorossiysk and has an initial capacity of 560,000 barrels per day.
The link, built by the Caspian Pipeline Consortium (CPC), will potentially transform Kazakhstan's economy and put the country on the map as a real oil power.
"This is an unforgettable day in the year of the 10th anniversary of Kazakhstan's independence," Mr Tokayev said at the opening ceremony.
"President Nursultan Nazarbayev holds out great hopes for the Caspian Pipeline Consortium line, believing it will help open up the oil wealth of Kazakhstan," he added.
The Tengiz field contains six to nine billion barrels of recoverable reserves.
Export hurdles
Since Kazakhstan and its Caspian neighbours gained independence from the Soviet Union a decade ago, the spotlight has been on their resources - oil and gas.
Few doubted the potential of these reserves, but the problem until now has been how to export them.
Kazakhstan is a land-locked country far from world markets, and so far it has had to use existing pipelines.
The opening of the new link is considered a triumph for those involved - for CPC, the American-led consortium TengizChevroil and for the Kazakh and Russian Governments.
"This is the pipeline that Kazakhstan has been waiting for and it puts Kazakhstan on the map," said Steve Levine, Caspian correspondent for the Wall Street Journal.
"It's no longer a potential oil power, but a real oil power," he added.
'Great game'
The impact on Kazakhstan will not be immediate, but it will potentially transform the country's economy.
The Tengiz field is the sixth largest in the world.
Another Kazakh reserve under exploration now could turn out to be the third largest.
The Caspian region has one of the world's biggest undeveloped oil reserves.
The BBC's Central Asia correspondent, Catherine Davis, says pipeline routes have become the focus of a new geo-political great game.
Russia, the United States, Turkey and Iran are all vying for influence.
Moscow - set to gain lucrative transport tariffs - is a winner this time round.
But analysts say Caspian states are keen to see multiple routes for their oil and gas - a view echoed by the Kazakh prime minister.
"This is just the beginning," said Mr Tokayev, "In principle, Kazakhstan stands for having as many pipelines as possible."
---