Documents menu
Bra workers seek government support
BBC News Online, Tuesday 4 July 2000, 18:02 GMT 19:02 UK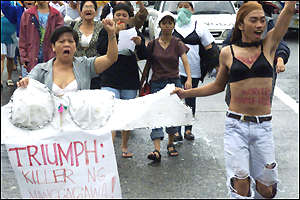 Workers at a lingerie factory in the Philippines staged an eye-catching protest on Tuesday to demand better wages and improved working conditions.
Wearing little more than bras to cover their upper body, about 30 men and women marched through Manila to take their message to the Department of Labour.
The protesters are employees at a factory belonging to Triumph, the international brassiere and lingerie manufacturer.
They are asking for a daily wage increase of 100 pesos ($2.30).
In a statement released to journalists they outlined the reasons for their pay demand.
Bra burning
Bras are for women's protection as much as the DOLE (Department of Labour and Employment) is for protecting workers, the statement said. Yet we are not being protected either by the bras we make or the DOLE.
As part of their protest, they burned a giant replica of the popular Millennium Bra produced at the factory.
Pedestrians and motorists giggled and made catcalls as the protesters, undeterred by a steady drizzle, marched through the city.
There has so far been no official response from the government to their protest.