Documents menu
Hunt for remnants of fanatical Manila cult
AFP, The Straits Times, 14 August 2000
Police in southern Philippines hunting the remaining members of the Catholic God's Spirit cult who are on the run have urged them to surrender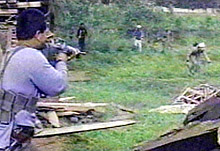 ZAMBOANGA (Philippines)—Army units were scouring a southern Philippine town yesterday for remnants of an extremist Christian cult after a fierce clash with the authorities that left 20 people dead, officials said.
Police in Pangantukan town, Bukidnon province, were also put on high alert as investigations were launched into the Catholic God's Spirit cult in the town. The sect, whose ranks number fewer than a hundred, had splintered into smaller groups yesterday as members attempted to evade arrest, an army spokesman said.
If they peacefully surrender that is better, but we are prepared for any eventuality, said the spokesman.
Police and members of the cult had clashed on Friday after the authorities tried to arrest a member of the group, Roberto Madrina, who was wanted for murder.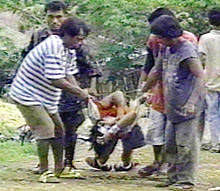 The group had ambushed the arresting officers and the ensuing clash left 16 cult members, three government troops and their civilian guide dead.
Television footage showed machete-wielding cult members rushing towards government troops from several directions, screaming as they waved the machetes in an apparent effort to ward off bullets.
Local police chief Diosdado Valiente said town officials had earlier negotiated with the cult's leaders to peacefully hand over Madrina to police, assuring them he would be accorded a fair trial in court, but the group rejected the request.
Mr Valiente said a hysterical Madrina was among the first to attack the troops, who fought back using high-powered rifles, immediately killing him and several followers.
The civilian guide was hacked to death by cult members, he added.
The Catholic God's Spirit group is one of dozens of tad-tad or chop-chop fanatical Christian groups in the southern Philippines, so named over their practice of hacking enemies to death.
The incident came amid increasing lawlessness in the southern Philippines where a string of bomb attacks and massacres have left more than 50 people dead.
On Sunday, blasts in two cities killed at least four people and wounded about 23 others.