---
Mongolia elects a president on 18 May, 1997: Seen as backlash to government's market reforms
Associated Press. 19 May, 1997
ULAN BATOR, Mongolia - The leader of a former hard-line communist party has won Mongolia's presidential election, preliminary results indicated today, in an apparent backlash against the government's stepped-up free-market reform.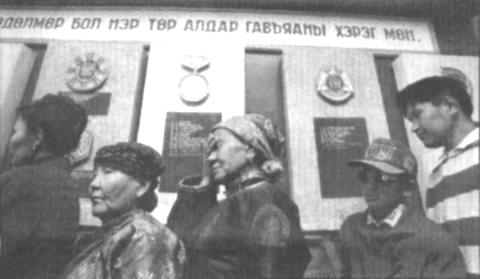 At a car maintenance garage turned polling place in Ulan Bator, Mongolia, voters line up in front of a board used in communist times to honor model workers. Turnout appeared to be high Sunday in the fourth multiparty election in the nation since 1990.

N. Bagabandi, chairman of the Mongolian People's Revolutionary Party, took 60 percent of the vote Sunday, while President P. Ochirbat received 29 percent, the Election Commission said.

The commission did not provide a vote count, saying final results would be released in several days. About 85 percent of eligible voters cast ballots, the commission said.

Bagabandi's strong showing was seen as a reaction against the hardship caused by free-market reforms used by Ochirbat's governing coalition to dismantle Mongolia's centralized economy.

The reforms have sharply raised unemployment and inflation in the underdeveloped nation, and Baga bandi has criticized them as too harsh.

At the same time, the economic liberalization has increased foreign investment, privaatized state-owned enterprises and created a burst of new hotels, nightclubs, bars, restaruants and small stores.

Although the presidency is a largely ceremonial post. Bagabandi would still bel able to veto legislation the governing coalition believes is needed to cmoplete Mongolia's transition to capitalism by 2000.

No one, however, believes he will try ot challenge Mongolia's highly popular multiparty democracy or roll back existing economic reforms, such as the one that recentlyh gave Mongolians the right to own a home.

Remote Mongolia, where two-fifths of the country's two million people still roam plains, mountains and deserts as nomadic herders, abandoned hard-line communism in 1990, under pressure from a peaceful but powerful pro-democracy movement.

That movement forced Bagabandi's party, which had ruled the country for 75 years with Soviet support and foreign aid, to allow multiparty elections.

Despite the sea change that took place in 1990, it took until last year for opposition parties to forge alliances, coordinate their campaigns and wrest control of Parliament from the former communists.

Across Mongolia on Sunday, nomads donned their best embroidered boots, wide-sashed robes and pointed ceremonial hats and rode their horses for miles across vast plains and deserts to vote.

At polling places in schools, government buildings and traditional "ger" tents, the nomads stood in long lines with Buddhist monks in scarlet robes, military men in their best uniforms and urbanites in suits and dresses.

"I cherish the democracy that we now have," said one voter, Baljinnyam, 62, as he cast a ballot at the old Moscow Restaurant building in Ulan Bator, a remnant of the country's communist past.

"But I voted for Bagabandi because capitalism is coming too fast to Mongolia and leaving too many people without jobs."
---