Documents menu
Girl Power puts spice into Mongolia poll
The Straits Times, 3 July 2000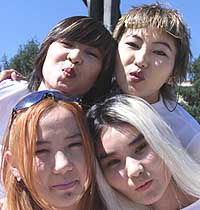 ULAN BATOR—Forget Mao suits, goose-stepping and the Internationale. Mongolia's former communist rulers have spiced up their party's image with peroxided hair, platform heels and Girl Power.
The Mongolian People's Revolutionary Party (MPRP) added gloss to its campaign for yesterday's parliamentary election by enlisting the help of the Spice Girls of the steppes.
Lipstick, Mongolia's only all-girl pop group, signed an exclusive contract to play at MPRP rallies, where they sang and danced with charismatic party leader Nambariin Enkhbayar, who models himself on British Prime Minister Tony Blair.
But the four singers—Ganaa, Gerlee, Degi and Ichko—said they would not vote for the party that ruled Mongolia for 75 years until it was swept from power by a young democratic coalition in a 1996 election.
Democracy has given us a lot, said ginger-haired Gerlee, 21, sitting in front of a statue of Lenin in the centre of Ulan Bator. It has given us the chance to sing and dance the way we want to.
Many Mongolians complain that capitalist-style economic reforms since the nation's first democratic election in 1990 have brought little material gain, with a third of the population of 2.4 million living on less than US$10 (S$17) a month.
But for Gerlee, a graduate from Ulan Bator's College of Music and Foreign Services University, the reform era has opened up a world of mobile phones, Internet cafes, discos and record contracts that were unheard of 10 years ago.
—Reuters