Documents menu
Nara gets boost to Yamatai Kingdom claim
Mainichi Shimbun, Wednesday 29 March 2000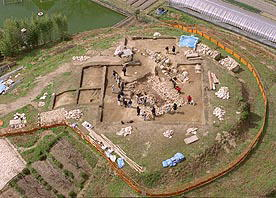 SAKURAI, Nara—One of the nation's longest-running historical spats has fallen heavily in favor of Nara with the discovery that a burial chamber here probably has a connection with a third-century queen.
Historians have long debated whether third-century Queen Himiko's Yamatai Kingdom—one of the first places in Japan to be mentioned in written history—was located in Nara or Kyushu, but the burial chamber excavated at Sakurai's Hokenoyama tomb, and other nearby remains, strongly suggest a link to the queen.
Scholars who support the Nara as Yamatai argument believe Himiko may have been enshrined at Hashihaka, a burial mound located some 200 meters west of the Hokenoyama tomb. Both Hashihaka and Hokenoyama are located in the Makimuku ruins some say were once the ancient Yamatai capital. They argue that the close proximity of the Hokenoyama tomb offers proof that the area was home to the Yamatai Kingdom.
If Hashihaka was Himiko's tomb, then the older Hokenoyama probably belonged to a member of her family or group, Taiichiro Shiraishi, deputy head of the National Museum of Japanese History, said. We can't dismiss suggestions the tomb belongs to her father or brother.
Muneyasu Ito, Hanazono University professor emeritus, agreed with Shiraishi.
The tomb belonged to someone influential throughout the Japanese archipelago. It could possibly have been for Himiko's predecessor, he said.
The Hokenoyama tomb is believed to be the oldest in Japan. Wooden beams surrounding a coffin in the 80-meterlong tomb seem to date from the middle of the third century. The burial chamber inside the tomb measures 7 meters by 2.7 meters and is believed to have housed a coffin 5 meters long by 1 meter wide. Vertical beams and a number of round stones are believed to have surrounded the coffin.
Excavators also found a mirror believed to have been presented by China's Wei Kingdom. The mirror was adorned with characters. Takayasu Higuchi, who heads the Nara Prefectural Archaeological Institute dig at Hokenoyama, said the mirror closely resembles one of 100 similar ones that Wei presented to Himiko.