Documents menu
May Day rallies call for job security
Mainichi Shimbun, 2 May 1999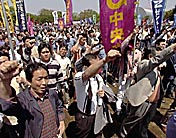 At a time when the number of the unemployed and the jobless rate are hitting record highs, about 1.9 million people attending May Day rallies at some 1,100 locations across the nation and called for job security measures on Saturday.
Labor groups organizing May Day rallies chanted slogans for employment and demanded measures to activate the economy.
The worsening employment and labor situation—a 4.8 percent jobless rate and 3.39 million unemployed people—was recorded in March.
We are in an unprecedented employment crisis, and people are disgusted with their living standards, said Etsuya Washio, president of the 8 million-strong Japanese Trade Union Confederation (Rengo), the nation's largest labor group.
Under recession and the mounting pressure of streamlining at companies, Washio told 85,000 Rengo members rallying at Tokyo's Yoyogi Park, Labor unions' most important mission is to secure employment.
About 1.5 million people attended rallies organized by Rengo.
Another large labor group, the National Confederation of Trade Unions (Zenroren), supported by the Japanese Communist Party, organized rallies at 360 sites, in which some 380,000 people took part.
At Kameido Chuo Park in Tokyo's Koto-ku, Zenroren Chairman Yoji Kobayashi told some 80,000 rally participants, Big businesses should immediately stop dismissing employees, and the national government should strengthen its measures to create more job opportunities.
Zenroren and other labor group members also expressed their opposition to a set of bills which the House of Representatives passed last week to step up defense cooperation between Japan and the United States.
Meanwhile, Rengo this year didn't hold demonstration marches shouting slogans but held what they call festival-style rallies. Questioned by Mainichi reporters at Yoyogi Park about their failure to show their fighting stance by demonstrations and shouting slogans, Rengo members were divided in opinion.
It is at this time of high unemployment that laborers have to join hands [by holding demonstrations], said a man in his 50s, adding that only organizing a festival did not lead to expressing their daily financial sufferings.
Meanwhile, the younger generation opposed demonstrations. A man in his 20s attending the morning rally at the park said, I had to attend the rally because of his union's instruction to do so. I am off today, so I prefer visiting some place for pleasure to holding a demonstration.
Another rally participant in his 30s found no purpose in May Day demonstrations, saying, These days, I believe, just holding demonstrations cannot radically change the atmosphere of society.