Documents menu
Timeline: Macedonia
BBC News Online, Wednesday 27 June 2001, 15:53 GMT 16:53 UK
A chronology of key events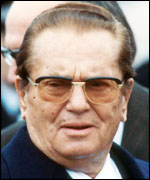 1945
—Establishment of Yugoslav socialist federation, comprising six republics, including Macedonia, with Tito as president.
1980—Death of Tito, rise of nationalism among federation's constituent republics.
1991—Majority of voters support independence in referendum.
New constitution enacted in the face of opposition by ethnic Albanian deputies. Declaration of independence. International recognition slow because Greece objects to the use of the name Macedonia, the same as one of its own provinces.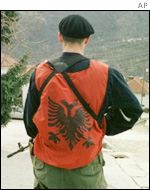 1992
—Unofficial referendum among ethnic Albanians shows overwhelming wish for their own territorial autonomy.
Government resigns after mass demonstrations for failure to win recognition for the country's independence. Federal Republic of Yugoslavia acknowledges Macedonia's secession.
UN approves dispatch of troops to monitor inter-ethnic tension.
UN recognition
1993—Gains UN membership under the name Former Yugoslav Republic of Macedonia.
1994—Greece imposes trade restrictions, causing economic damage.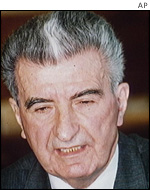 1995
—Unrest in Tetovo after newly opened Albanian-language university is declared illegal. Rector is jailed.
President Kiro Gligorov injured in assassination bid.
Greece recognises independence, lifts trade restrictions.
1996—Sporadic ethnic Albanian protests over curbs on Tetovo's Albanian-language university.
1997—Constitutional court forbids use of Albanian flag, sparking protests. Parliament adopts law on restricted use of the Albanian flag. Unrest follows forced removal of Albanian flags in Gostivar and Tetovo. Gostivar's mayor, Rufi Osmani, is jailed for rebellion over the flag-related unrest.
Mass rallies
1998—Thousands of ethnic Albanians gather in Skopje in support of ethnic Albanians in Serbia.
Elections bring into power a coalition government which is led by Ljubco Georgievski and includes ethnic Albanian representatives.
1999 February—Parliament approves an amnesty for mayor Osmani and thousands of other prisoners, overriding Gligorov's objections.
1999 March—Nato begins bombing campaign against Yugoslavia over its treatment of Kosovo Albanians. Serbian mass expulsion and killings of Kosovo Albanians leads to exodus into neighbouring countries, including Macedonia.
1999 June—Yugoslavia accepts peace plan. Kosovo refugees start leaving Macedonia.
2000—Macedonian troops on high alert on border with Kosovo because of increasing violence.
Insurgency crisis
2001 February—Nato's KFOR peacekeeping troops in Kosovo promise to step up border patrols to control movement of supplies and people after incidents near frontier.
2001 March—Nato urges government not to use force against militants occupying Tanusevci near Kosovo border. Further incidents of violence. Organisation for Security and Cooperation in Europe and US back use of force against guerrillas. Border with Kosovo closed.
Macedonian army backed by KFOR launches offensive to flush out guerrillas from Tanusevci.
Democratic Party of Albanians stages mass rally in Skopje against violence.
Tetovo town square hit by shells, fighting spreads.
Mass demonstration in Skopje urging tougher action against rebels. Tanks enter Tetovo, rebel positions hit by mortar fire. Government gives rebels ultimatum to surrender or face all-out attack. Refugee agency UNHCR says 22,000 ethnic Albanians have fled fighting.
2001 May—Main Macedonian parties form coalition government to address minority grievances. Fighting continues.
2001 June 6—Ethnic Albanian shops and a mosque in the southern town of Bitola torched in riots before the funerals of Macedonian soldiers killed by guerrillas.
June 13—Police say men of fighting age in Skopje mobilised, following rebel threat to shell the city.
June 24—Macedonia calls off an offensive against ethnic Albanian rebels near Skopje after "acrimonious" talks with European Union officials.
June 26—Gun-toting protesters besiege parliament in Skopje, angry at what they see as leniency towards ethnic Albanian rebels. President Boris Trajkosvki makes a national appeal for peace.
UNHCR says 100,000 people have been displaced in the conflict.