Documents menu
Country profile: Estonia
BBC News Online, Wednesday 11 July 2001, 09:26 GMT 10:26 UK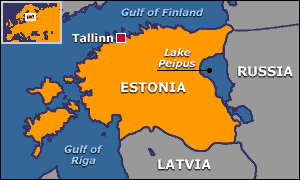 A small and heavily forested country on the Baltic, Estonia has been much influenced by its big and powerful neighbour, Russia, and its predecessor, the Soviet Union.
OVERVIEW
Estonia was part of the Russian empire until 1918 when it proclaimed its independence, which led to a brief war of independence.
A flat, rural country, Estonia exported farm produce during subsequent years of peaceful development and tried to find its identity as a nation. But in 1940 the peace was shattered when Soviet troops invaded, subsequently absorbing Estonia into the Soviet Union. In 1941 German occupation followed, and in 1944 Estonia was "liberated" by the Soviet troops.
As a result of an attempted coup in Moscow in August 1991, Estonia unilaterally declared its independence, but without blood being spilt. For some years afterwards, Russian troops remained on Estonian soil but they finally left in 1994.
The legacy of the Soviet years has left its mark: many of the mostly Russian industrial workers brought in decades ago have ended up without Estonian citizenship, partly because of the requirement to pass an Estonian-language test, but also because some see no need for citizenship. Consequently, a section of the population has no citizenship of any kind.
Because of its geographical position, Estonia hopes to pursue transit trade with Russia while aiming for close political and business links with Scandinavia and Western Europe.
FACTS
Population: 1.4 million
Capital: Tallinn
Major languages: Estonian, Russian
Major religion: Christianity
Life expectancy: 62 years (men), 74 years (women)
Monetary unit: 1 kroon = 100 sents
Main exports: Machinery, textiles, wood products
Average annual income: US $5,600
Internet domain: .ee
International dialling code: + 372
LEADERS
President: Lennart Meri
Prime Minister: Mart Laar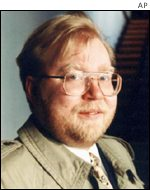 Estonian prime minister
Laar was prime minister from 1992–94. He was re-elected to the post in 1999 at the head of a 3-party centre-right coalition.
He describes himself as a free-market liberal who supports conservative values. He says his first mandate enabled him to turn Estonia to the West. His second mandate, he says, is designed to make this turn irreversible.
Estonia is a front-runner to join the EU, and Laar also wants to make membership of Nato possible.
Laar was born in 1960. He speaks several languages and is an author of historical works.
# Foreign minister: Toomas Hendrik Ilves
# Interior minister: Tarmo Loodus
# Finance minister: Siim Kallas
MEDIA
Estonian journalists may seem timid and deferential, a legacy perhaps of the Soviet era. The proliferation of newspapers in the early 1990s has turned into a fight for survival for the few remaining papers, and this fails to encourage vigorous journalism.
Vitaliy Khaytov, the publisher of the leading Russian-language newspaper "Estoniya", was found shot dead, with two bullet wounds to the head, in March 2001.
State-run radio and television have had financial difficulties which may not be over yet, particularly for the television.
Radio stations are numerous but few provide news, choosing instead to broadcast music and entertainment.
The BNS news agency is the principal news provider, but its newly-privatized rival, ETA, continues to disseminate news despite having gone bankrupt.
The press
# Aripaev—privately-owned business daily
# Postimees—privately-owned daily
# Eesti Paevaleht—privately-owned daily
# Maaleht—privately-owned weekly
# Estoniya—Russian language
Television
# Estonian Television—state-owned station
# TV3—privately-owned station
# Kanal 2—privately-owned station
Radio
# Estonian Radio—a state-owned station broadcasting on four channels
# Kuku Radio—privately-owned station
News agency
# BNS (Baltic News Service)