Documents menu
Poland mourns communist reformer
BBC News Online, Monday 30 July 2001, 13:39 GMT 14:39 UK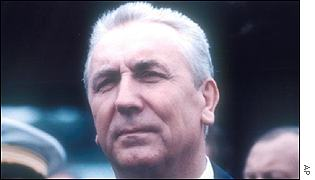 Edward Gierek, the communist leader who opened Poland to the outside world, has died aged 88.
Gierek ruled the country for 10 years before being swept from office in 1980, in a wave of food price protests that led to the emergence of Solidarity, the Soviet bloc's first trade union.
He is remembered as one of the most liberal communist leaders.
He gave Poles more freedom to travel than other subjects of eastern bloc states, and introduced to the country Fiat cars, French buses, American Coca-Cola and Marlboro cigarettes.
Debt
"On the list of Poland's communist first secretaries, Gierek did the least harm to Poland," said Lech Walesa, the former Solidarity leader who was elected president after communism fell in 1989.
"He opened up Poland to the world, but at the same time threw the country into terrible debt."
In an attempt to modernise Polish industry, Gierek took out more than $20bn in loans from Western banks, but much of it was wasted on ill-considered prestige projects.
When the communists were toppled in 1989 the country's foreign debt amounted to more than $40bn.
Leszek Miller, the head of Poland's opposition Democratic Left Alliance (SLD) said: "Many Poles remember the Gierek era as the happiest time in their life."
Gierek became a communist activist in his youth, while working in coal mines in France and Belgium.
Jail
He succeeded Wladyslaw Gomulka as First Secretary of the Polish Communist Party in 1970, after more than 40 workers were shot dead in food price riots.
After his successor, General Wojciech Jaruzelski, declared martial law in 1981, hoping to crush Solidarity, Gierek was expelled from the party and briefly jailed.
Embittered, he retired to live in his native Silesia, Poland's industrial heartland.
He died on Sunday at a hospital in the southern city of Cieszyn of a lung infection stemming from his years as a miner.
He is survived by his wife, Stanislava, and two sons, one of whom, Adam, is running as an SLD candidate in September's general election.