Documents menu
Timeline Sudan: A chronology of key events
BBC News Online, Thursday 24 May 2001, 15:37 GMT 16:37 UK
1881—Revolt against the Turco-Egyptian administration.
1956—Sudan becomes independent.
1958—General Abbud leads military coup against the civilian government elected earlier in the year
1962—Civil war begins in the south, lead by the Anya Nya movement.
1964—The October Revolution overthrows Abbud and a national government is established
1969—Ja'far Numayri leads the May Revolution military coup.
1971—Sudanese Communist Party leaders executed after short-lived coup against Numayri
South gets autonomy
1972—Under the Addis Ababa peace agreement between the government and the Anya Nya the south becomes a self-governing region.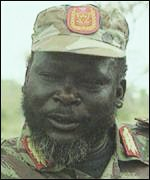 1978—Oil discovered in Bentiu in southern Sudan.
1983—Civil war breaks out again in the south involving government forces and the Sudan People's Liberation Movement (SPLM), lead by John Garang.
Islamic law imposed
1983—President Numayri declares the introduction of shari'ah (Islamic law).
1985—After widespread popular unrest Numayri is deposed by a group of officers and a Transitional Military Council is set up to rule the country.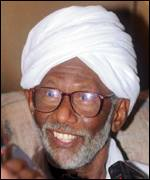 1986—Coalition government formed after general elections, with Sadiq al-Mahdi as prime minister.
1988—Coalition partner the Democratic Unionist Party drafts cease-fire agreement with the SPLM, but it is not implemented.
1989—National Salvation Revolution takes over in military coup.
1993—Revolution Command Council dissolved after Umar al-Bashir is appointed president.
US strike
1995—Egyptian President Mubarak accuses of Sudan of being involved in attempt to assassinate him in Addis Ababa.
1998—USA launches missile attack on a pharmaceutical plant in Khartoum, alleging that it was making materials for chemical weapons.
1998—New constitution endorsed by over 96% of voters in referendum.
1999—President Bashir dissolves the National Assembly and declares a state of emergency following a power struggle with parliamentary speaker, Hassan al-Turabi.
1999—Sudan begins to export oil.
2000 5 September—The governor of the capital, Khartoum, issues a decree barring women from working in public places.
2000 26 September—President Bashir meets for the first time ever leaders of the opposition National Democratic Alliance in the Eritrean capital, Asmara.
2000 December—Police arrest six members of the National Democratic Alliance while they were meeting a US diplomat; Bashir re-elected for another five years in elections boycotted by the main opposition parties.
2001 February—Islamist leader Hassan al-Turabi arrested a day after his party, the Popular National Congress, signed a memorandum of understanding with the southern rebel Sudan People's Liberation Army.
2001 March—United Nations' World Food Programme issues warning about worsening plight of some three million people left hungary by drought and conflict in Sudan.
2001 April-May—Police continue arrests of members of Turabi's Popular National Congress party.