Documents menu
Timeline Liberia: A chronology of key events
BBC, 25 July 2001
1847 - Constitution modelled on that of the USA drawn up.
Independence
1847 July - Liberia becomes independent.
1917 - Liberia declares war on Germany, thus giving the Allies a base in West Africa.
1926 - Firestone Tyre and Rubber Company opens a rubber plantation on land granted by the government. Rubber production becomes backbone of economy.
1936 - Forced-labour practices abolished.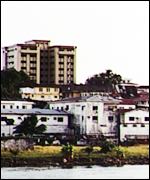 1943 - William Tubman elected president.
1944 - Government declares war on the Axis powers.
1951 May - Women and indigenous property owners vote in the presidential election for the first time.
1958 - Racial discrimination outlawed.
1971 - Tubman dies and is succeeded by William Tolbert Jr.
1974 - Government accepts aid from the Soviet Union for the first time.
1978 - Liberia signs trade agreement with the European Economic Community.
1979 - More than 40 people are killed in riots following a proposed increase in the price of rice.
Years of instability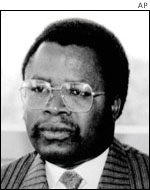 1980 - Master Sergeant Samuel Doe stages military coup. Tolbert and more than 12 of his aides are killed. A People's Redemption Council headed by Doe suspends constitution and assumes full powers.
1984 - Doe's regime allows return of political parties following pressure from the United States and other creditors.
1985 - Doe wins presidential election.
Taylor's uprising
1989 - National Patriotic Front of Liberia (NPFL) led by Charles Taylor begins an uprising against the government.
1990 - Economic Community of West African States (Ecowas) sends peacekeeping force. Doe is executed by a splinter group of the NPFL.
1991 - Ecowas and the NPFL agree to disarm and set up an Interim Government of National Unity.
1992 - The NPFL launches an all-out assault on West African peacekeepers in Monrovia, the latter respond by bombing NPFL positions outside the capital and pushing the NPFL back into the countryside.
Tentative cease-fire
1993 - The warring factions draw up a plan for a National Transitional Government and a cease-fire, but this fails to materialise and fighting resumes.
1994 - The warring factions agree on a timetable for disarmament and the setting up of a joint Council of State.
1995 - Peace agreement signed.
1996 April - Factional fighting resumes and spreads to Monrovia.
1996 August - West African peacekeepers initiate disarmament programme, clear land mines and reopen roads, allowing refugees to start returning.
1997 January - Disarmament programme declared a success.
1997 July - Presidential and legislative elections held. Charles Taylor wins a landslide and his National Patriotic Party wins a majority of seats in the National Assembly. International observers declare the elections free and fair.
Border fighting
1999 January - Ghana and Nigeria accuse Liberia of supporting Revolutionary United Front rebels in Sierra Leone. Britain and the US threaten to suspend international aid to Liberia.
Many factions recruited children to fight
1999 April - Rebel forces thought to have crossed from Guinea attack the town of Voinjama. Subsequent fighting leads to the displacement of more than 25,000 people.
1999 September - Guinea accuses Liberian forces of entering its territory and attacking border villages.
2000 July - The US threatens to impose sanctions on Liberia unless it curtails its ties with Sierra Leone's Revolutionary United Front.
2000 September - Liberian forces launch "massive offensive" against rebels in the north. LIberia accuses Guinean troops of shelling border villages.
2001 8 February - Liberian government announces that Sierra Leonean rebel leader Sam Bockarie, also known as Mosquito, had left the country and that the rebels' liaison office had been closed.
2001 7 March - UN Security Council imposes tough measures against Liberia, accusing it of fomenting war in west Africa. The measures, which include a ban on diamond exports and restrictions on travel by Liberian officials, will not come into force for two months. The Security Council also re-imposed, with immediate effect, an arms embargo against Liberia which first came into effect during the country's civil war between 1989 and 1996.