Documents menu
Timeline: Republic of Congo
BBC News Online, Wednesday 9 May 2001, 11:22 GMT 12:22 UK
A chronology of key events
1400s—Bakongo, Bateke and Sanga ethnic groups arrive in what is now the Republic of Congo.
1482—Portuguese navigator Diogo Cao explores the coastal areas.
French rule
1880—French explorer Pierre Savorgnan de Brazza negotiates an agreement with the Bateke to establish a French protectorate over the north bank of the Congo river.
1907—France restricts the role of concessionaires following widespread outrage at revelations of the brutalities of forced labour.
1910—Middle Congo, as it was known then, becomes a colony of French Equatorial Africa.
1928—African revolt over renewed forced labour and other abuses carried out in the course of building the Congo-Ocean railway, which resulted in the death of more than 17,000 Africans.
1946—Congo given a territorial assembly and representation in the French parliament.
1958—Congolese vote for autonomy within the French Community.
Independence
1960—Congo becomes independent with Fulbert Youlou as president.
1963—Youlou forced to resign following workers' unrest; Alphonse Massamba-Debat becomes president and Pascal Lissouba prime minister.
1964—Massamba-Debat sets up the National Revolutionary Movement as the sole party and proclaims a non-capitalist path of economic development.
1968—Massamba-Debat ousted in a coup led by Marien Ngouabi, who continues his predecessor's commitment to socialism but sets up his own party, the Congolese Workers Party (PCT).
1970—Ngouabi proclaims Congo a Marxist People's Republic with the PCT as the sole legitimate party.
1977—Ngouabi assassinated in a plot by Massamba-Debat, who in turn is executed; Joachim Yhombi-Opango becomes president.
1979—Yhombi-Opango hands over the presidency to the PCT, which chooses Denis Sassou-Nguesso as his successor.
1981—Congo signs treaty of friendship and cooperation with the Soviet Union.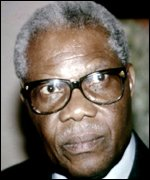 Pascal Lissouba: Congo's first democratically-elected president
1990
—The PCT abandons Marxism.
1992—Voters approve a new constitution establishing a multiparty system; Pascal Lissouba elected president in Congo's first democratic election.
Civil strife
1993—Bloody fighting between government forces and opposition over disputed parliamentary elections.
1994-95—Ceasefire between government and opposition established; opposition given government posts.
1997—Full-scale civil war breaks out; pro-Sassou Nguesso forces, aided by Angolan troops, capture the capital, Brazzaville, forcing Lissouba to flee.
1999—Government and rebels sign a peace deal in the Zambian capital, Lusaka, providing for a national dialogue, demilitarisation of political parties and the re-admission of rebel units into the country's security apparatus.
2000—Preliminary proposals agreed for a draft constitution that will be submitted for a referendum in 2001.
2001 April—Peace conference ends by adopting a new constitution which will be put to a referendum at the end of the year, paving the way for presidential and parliamentary elections.