Documents menu
---
Brazil Rediscovers Its Culture; Poor Man's Cocktail, Martial Art Hip Among Middle Class
By Stephen Buckley, Washington Post, Sunday 15 April 2001; Page A16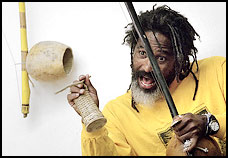 RIO DE JANEIRO -- Guests at the gleaming, $300-a-night Copacabana Palace Hotel in the heart of Rio's tourist district used to be offered Caribbean-style pina coladas and daiquiris on arrival. Now they get caipirinhas, a Brazilian speciality made with lime, crushed ice, sugar and a powerful sugar-cane liquor known as cachaca.
Years ago, the caipirinha was the poor man's libation and few upper-class Brazilians risked being seen drinking it. Today, it has become such a source of national pride that the government has embarked on an aggressive campaign to export cachaca, leading to an 82 percent increase in overseas sales.
It's become our vodka, our tequila, said Raimundo Pinheiro, chief bartender at the Copacabana Palace. When people think of caipirinhas, they think of Brazil.
Cachaca is not the only aspect of Brazilian culture that has found new acceptance here in Latin America's largest and most populous country. Capoeira, an ancient dance-cum-martial art always popular among poor and working-class Brazilians, has become hip among Brazil's middle class. Even Brazilian music, once relegated to second-class status on radio stations here in favor of American pop, is enjoying a renaissance.
These are dramatic developments in a country long known for ambivalence toward its own culture. Deference to things American and French historically has been a profound part of the Brazilian psyche. Now, thanks in large part to nearly a decade of economic openness and political stability, Brazil is changing its mind about itself.
The new national self-confidence has not only reinvigorated once-marginalized aspects of the culture. It also has emboldened Brazilians to promote the culture in places such as the United States, where Brazilian film and music -- as well as capoeira and caipirinha -- have grown increasingly popular in the past decade.
The Manhattan-based magazine In Style last year called the caipirinha one of the country's hot new drinks. More than 200 capoeira schools exist in the United States, and a small number of U.S. universities offer capoeira courses for credit. Brazilians -- Milton Nascimento, Gilberto Gil, Caetano Veloso and Joao Gilberto -- have won the Grammy for World Music the past four years.
Brazilians are more self-confident, and that makes it easier to sell the culture, said Daniel Piza, executive editor of the newspaper Estado de Sao Paulo, who has written extensively about Brazil-U.S. relations. This is a time when Brazilians are looking very closely at themselves. They're very critical of a lot of what they see. But they also are finding things that they like.
Among them is capoeira, a sport that combines the grace and flexibility of dance with the swiftness and power of martial arts. Like cachaca, it was once an important part of Brazilian slave culture and until recently was disdained as something that was just for poor, black Brazilians, especially in places like Rio, said Celio Luiz de Paula Gomes, 30, a capoeira teacher.
Gomes, who also has taught capoeira in Washington and Philadelphia, runs three classes a week in a cavernous converted steel refinery in a working-class section of Rio. The school, the International Capoeira Angola Foundation, was established by Cinezio Feliciano Pecanha, or Mestre Cobra Mansa, his capoeira name. Gomes's class includes university students, salesmen and Web site designers.
When I started capoeira five years ago, at first I didn't tell my father. When I did tell him, he said, 'You can't do that. Capoeira is for the poor and the blacks,' said Fatima da Cunha Caria, 25, a university student. Her father did not realize, she said, that now you have whites, you have women. You see it all over the media. It's a thing of the middle class.
So is cachaca. At the Copacabana Palace, a hot spot for upper-middle class and wealthy locals, Raimundo Pinheiro said that his bartenders make as many as 200 caipirinhas a day. Brazilians have become so fiercely protective of cachaca that the industry is entangled in a row with the United States over how to identify it. The US government classifies it as rum. Brazilian producers, indignant, say no. Cachaca is cachaca.
Whatever it should be called, Maria das Vitorias Calvancanti, one of Brazil's largest producers, said her cachaca exports to the United States have grown more than 117 percent over the last three years.
Even Brazilian music, long popular in the United States, is seeing a rebirth of sorts here. When I moved here 15 years ago, it was hard to find a station that played only Brazilian music, said Bill Hinchberger, an American who lives in Sao Paulo and who has created a popular Web site called BrazilMax.com hailing Brazilian culture.
Radio stations in the United States now dedicate hours-long shows to Brazilian music. New York nightclubs have started weekly Brazil Nights. The four Grammys have sharpened the profile of Brazilian music in the United States.
The Grammys mean artistic quality, but they also signify that more people are listening, said Sounni de Fontenay, editor in chief of the Internet magazine LARitmo.com.
At the same time, Brazilian films are slowly gaining prominence abroad. A Brazilian film, Possible Loves, took home the prize for best Latin American film at the Sundance Film Festival this year, and Brazilian works have garnered Oscar nominations two of the last three years.
Brazilians' pride in their culture signals an important shift in the country's mind-set. During the 1940s, Brazilians excoriated singer Carmen Miranda, who drew huge audiences in America, as portraying a stereotype of Latin Americans generally and of Brazilians in particular. Even today, some Brazilians worry that the emerging popularity of their culture abroad may ultimately be harmful.
I have heard filmmakers say that they're going to make a film the Americans will like,<.q> said Arnaud Jabur, a commentator and former filmmaker. I don't think that's a good thing.