Documents menu
---
Funeral held for former labour leader Marcel Pepin
Canadian Press, 13 November 2000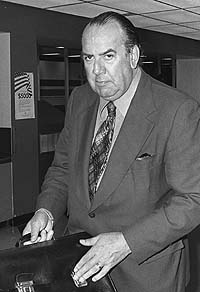 Marcel Pepin , shown in this Aug. 25, 1977 photo died Sunday at the age of 74 (CP PICTURE ARCHIVE/Chuck Stoody).

MONTREAL (CP) -- Dignitaries and friends gathered at the historic Notre-Dame basilica on Thursday to pay homage to Marcel Pepin, a key figure in Quebec's labour movement.

Pepin, who died Sunday after a long illness, was remembered by Premier Lucien Bouchard as a "man of action" who never forgot the average worker.

Pepin, who was one of three labour leaders jailed by former premier Robert Bourassa during a public sector strike in 1972, was president of the Confederation of National Trade Unions.

He helped create the so-called common front, which includes all public and parapublic sector unions in Quebec united in their contract demands.

Pepin, who espoused an independent and socialist Quebec during his tenure as head of the province's second-largest labour federation, was 74 when he died.

"Everyone remembers the common front," said current Confederation president Marc Laviolette.

"We didn't have the support of the elites but the strike and the protest that followed the imprisonment of the three leaders forced the government to bend. That was a great victory."

Pepin, who was jailed with fellow union leaders Louis Laberge and Yvon Charbonneau -- later a Liberal member of Parliament -- led his union from 1965 to 1976.
---