Documents menu
---
Sysco deal approved by workers
By Tera Camus, The Halifax Herald Limited, Tuesday 31 October 2000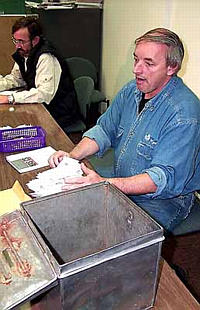 Sydney Steel union member Bill Brookman helps count the ballots cast by members to accept a new collective agreement offered by Duferco Farrell Corp.
Sydney - Workers at Sydney Steel Corp. voted overwhelmingly in favour of a new collective agreement Monday, moving the plant one step closer to privatization. About 550 of the about 800 members of the United Steelworkers of America cast a ballot during the daylong vote, with 85 per cent approving the deal Duferco Farrell Corp. offered last week.
The Swiss firm will now move ahead to finalize its sale agreement with the province within weeks and have steel production within seven months.
Premier John Hamm said Monday he welcomed the end of the "30-year odyssey" of government involvement with Sysco.
"We're out of the steel business," he said at Province House.
"I think this is a great day for certainly steelworkers, I think it's a great day for the people of industrial Cape Breton, it's a great day for Nova Scotians."
The province assumed control of Sysco on Dec. 1, 1967, intending to keep it running for 12 months. But those 12 months turned into 395 months that have cost taxpayers in excess of $3 billion, which is more than a quarter of Nova Scotia's debt.
The new collective agreement was one of three conditions of Sysco's sale to Duferco. A pension and severance agreement from the province was ratified earlier by members and an electriciy deal with Nova Scotia Power is needed before the plant is sold.
The collective agreement, effective the day the mill is sold, will lay the ground rules for the 176 union positions that will be up for grabs. Union boss Bill McNeil said Monday marked the beginning of a new era for the steel mill.
"There's no doubt been disappointment over the years, especially when you spend so much money on the steel plant to get it back to the 1,000 to 2,000 (jobs) and here we are down to 200 members now but I think it's the best way we could have gone," he said.
"We just couldn't continue the way it was going. For the past 10 years, with the layoffs and not knowing whether we'd be there in the following year, always depending on the government.
"So I think steelworkers and their families are saying at least they got a pension, at least there's a new owner, and at least there's hope it will continue on and grow and employ more people over the next few years."
He said the big selling point of the new contract was that it borrows from the union's existing contract and provides a wage hike of $1.70 over five years.
"We never lost any benefits," Mr. McNeil said. "All our benefits are the same, our wages are increased. The pension package is not the way it was but the RRSPs can be used to put in a pension plan later on. All in all, I think the men were satisfied with what they saw."
Ratification of the new contract was needed before any of the older workers could tap into the provincial pension and severance agreement.
That deal will benefit at least 600 men, providing pensions to anyone with 25 years of service or more, and severance of $32,000 before taxes - about a year's salary - to anyone who doesn't want a new job in the privatized plant.
"There's people still out there who don't know if they're going to get a job or not," Mr. McNeil said. "We just don't know how many people are going to apply to Duferco, there's only 200 jobs out there.
"Most of the guys, as I understand it, are going to take their pensions so that will leave the work for the (workers hired in 1978 and 1979), guys not covered under the pension umbrella."
Mr. McNeil believes Duferco is the best and only chance for Sysco.
"There's no question they'll get the steelmaking end going," he said.
"They're going to spend about $25 million down there modernizing and rebuilding some of the furnace and caster. My hope (is) that within two or three years down the road, they'll expand into new products. If they do that, I think we have a good future for Sydney Steel and a good future for young people to start out in new jobs."
Mr. McNeil said the union was glad membership sided with its advice to take the deal. As for the union executive members, they'll all be getting pensions.
Once Duferco gets in the plant, the company will send out letters to all the men on Sysco's books, determining who wants a pension, severance or job. Once the men are hired, a new union executive will be elected.
Mr. Hamm said he was happy his government could keep its commitment to get out of the steel business, while leaving a steel industry in industrial Cape Breton.
The province is still on the hook for an environmental cleanup that will cost hundreds of millions of dollars.
The sale agreement with the province also has to get through the legislature before it's finalized.
When asked whether the province will help out the private steel mill if times get tough, Mr. Hamm said it will be treated like any other private business in the province.
A spokesman from Duferco couldn't be reached for comment Monday.
---
With David Jackson, provincial reporter
---