Documents menu
Turkey Sentences Kurdish Rebel to Die
By Amberin Zaman,
Washington Post,


Wednesday 30 June 1999; Page A25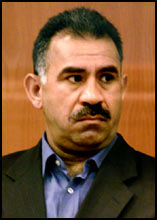 DIYARBAKIR, Turkey, June 29 - A Turkish court today convicted Kurdish rebel leader Abdullah Ocalan of treason and sentenced him to death by hanging for leading a violent 14-year campaign for Kurdish self-rule in southeastern Turkey.
The verdict in a courtroom on a remote prison island in the Sea of Marmara south of Istanbul was widely anticipated, and initial reaction among Kurds here in the Turkish southeast and in Western Europe was muted, in strong contrast to the violent protests that accompanied Ocalan's capture and arrest by Turkish special forces in Kenya in February.
Ocalan's lawyers said Monday they would appeal the sentence within 10 days. While the death penalty is mandatory in Turkey in treason cases, it ultimately requires the approval of parliament. As a result, the highly charged case now moves into the political arena, where there is a mounting debate among politicians and the country's powerful armed forces about whether to carry out the death penalty against a man whose Kurdish Workers' Party revolt is blamed for the deaths of more than 30,000 people.
Standing in a bulletproof glass cubicle with his hands clasped firmly behind his back, the rebel chief showed no signs of emotion as presiding judge Turgut Okyay read out the sentence. He has murdered thousands of innocent people ... babies, women, elderly, Okyay said. His actions constitute a ... great menace to the Turkish state.
As Okyay concluded his comments, Ocalan, 50, turned to face the court audience for the first time since his trial began on May 31, waved, then was led out by security guards. In a two-minute statement before his conviction, Ocalan said: I do not accept the charge of treason. I believe I've struggled for the unity of the country and for freedom.
Ocalan was arrested in February after months on the run through Europe and Africa. Until then, he had directed the fight for Kurdish self-rule from a base in Syria. The trial by a special state security court has been closely monitored by human rights organizations, some of which have criticized Turkey's handling of the case.
European governments denounced the verdict and appealed for leniency. Germany, which has sizable Turkish and Kurdish populations, warned that it could damage Turkey's relations with the European Union.
The United States, which supported Turkey's efforts to capture Ocalan, declined immediate comment on the sentence. We have long believed that Ocalan is an international terrorist who should be brought to justice, White House spokesman Joe Lockhart said.
Scores of relatives of Turkish soldiers and civilians killed in the insurgency who attended the verdict began singing the national anthem, holding up framed pictures of their loved ones and taunting Ocalan's lawyers in the courtroom after the sentence was announced. In Mudanya, the coastal town near Imrali island, where Ocalan has been held in solitary confinement since his capture on Feb. 15, hundreds of others cheered, belly-danced and chanted anti-Kurdish Workers' Party slogans.
Anger was palpable in Diyarbakir, a provincial capital in the southeast, where support for Ocalan traditionally has been strong. Kurdish families whose relatives died fighting on the side of the rebels watched the hearing on Turkish state television. What about my pain, what about my son, is he not a human, is he an animal? shouted Hatice Tekdag, whose 17-year-old son, Mustafa, died in a clash with the security forces in 1994. Her husband, Ali, was detained the same year, joining the ranks of thousands of people who have disappeared in police custody since the rebels launched their campaign for Kurdish self-rule in 1984.
Turkey has long denied the existence of a Kurdish problem, although it has refused to meet the demands of its estimated 12 million Kurds for greater cultural rights.
Responding to today's verdict, the Kurdish Workers' Party's political wing threatened in a statement to react to this new development in a different way from what we have been doing until the ruling came. The party's new leader, Cemil Bayik, has warned of an unprecedented campaign of violence if Ocalan is executed.
The high court could take several months to respond to an appeal. If it upholds the verdict, as is widely expected, the death sentence would have to be ratified by parliament. Although capital punishment remains on the books, no executions have been carried out in Turkey since 1984, in line with the country's efforts to join the European Union.
Up until the beginning of Ocalan's trial, it seemed a foregone conclusion that he would be executed. But some Turkish political figures are now arguing that hanging him could make him a martyr, further alienate the country's Kurds and damage Turkey's already strained relations with the EU.
Supporters of his execution argue that failure to carry out the sentence would be a sign of weakness and could trigger a violent outburst by his supporters.
Opponents of executing Ocalan seem to be gaining the upper hand in the debate. Okyay, the presiding judge, told reporters at the end of the hearing today that he was personally against capital punishment.
Ocalan himself has helped spur doubts about the merits of hanging him by pledging throughout the trial to serve the Turkish state if his life is spared. He has distanced himself from his supporters by accusing them of using violent methods that are out of all proportion with our goals. The Kurdish Workers' Party's aims, he said, were no longer Kurdish independence, or status within a Turkish federation, or autonomy, but the easing of restrictions on the Kurdish language in broadcasting, publishing and education, and the granting of a full amnesty for rebels.