Documents menu
Bangladesh slum clearance continues
By Kamal Ahmed, BBC News, Monday 9 August 1999, 16:11 GMT 17:11 UK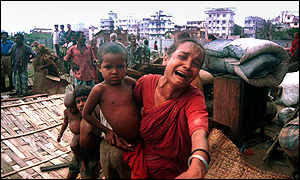 Police in Bangladesh have continued to pull down slums in the capital, Dhaka, for the second day running in a move they describe as an anti-crime crackdown.
In the densely-populated older part of Dhaka, nearly 1,000 police and paramilitary forces cordoned off a huge area by the side of a railway track linking Dhaka with Narayanganj in the early morning.
Police officials told the BBC that after the day-long operation that they had cleared about 2.5 km of unauthorised shanties by the side of the railway line.
Though the operation was described as anti-crime crackdown , police say they have recovered only two guns made in the countryside and arrested 15 people.
Meanwhile, a coalition of Non-Government Organisations (NGOs) working in different city slums in education and healthcare programmes have decided to hold protest rallies in the city from tomorrow.
They have also decided to seek the intervention of the court to stop the government from carrying out further evictions.
City planners, however, warned the government that such unplanned removal of squatters might worsen the law and order situation in the capital as a sizeable number of evicted slum dwellers would have to leave their jobs.
Dr Rita Afsar of the Bangladesh Institute of Development Studies (BIDS) said that the latest survey carried out earlier this year showed that three major sectors of urban economy—construction , transport and small businesses—had shown remarkable growth rates of more than 25% in each sector and slum dwellers had contributed most.
Dr Afsar said the survey also showed that 80% of criminals active in the city live in middle-class areas and enjoy political backing from both the ruling and opposition parties.
However, she said that some slum-dwellers had been used to run illegal drug trade and prostitution.