Documents menu
Nanking denial triggers outrage
Mainichi Shimbun, Wednesday 19 January 2000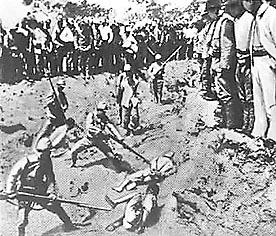 China and Chinese communities in the Kansai region urged the Osaka municipal and prefectural governments Tuesday to ban a forum which denies that a massacre in Nanking by the Japanese Imperial Army during the Japanese invasion of China in the 1930s ever occurred.
The revisionist forum titled: The Verification of the Rape of Nanking: The Biggest Lie of the 20th Century, is scheduled to open at the semi-governmental Osaka International Peace Center (Peace Osaka) on Jan. 23.
We believe that the aim of the forum is to deny the historical fact and to make a mockery of the Chinese people, a protest by an association of resident Chinese communities in Osaka, Kyoto and Kobe stated. It is a serious provocation against peace-loving Chinese and Japanese people, which may undermine the trust between the two nations.
The association handed in the protest to the Osaka Prefectural Government, Osaka Mayor Takafumi Isomura, and the director of Peace Osaka.
The Chinese Government also criticized the forum in its official People's Daily and through its consulate general in Osaka, demanded the local governments to cancel the forum.
The whole of China is horrified and angered by this. Peace Osaka was established as an anti-war museum to support the pacifist movement, and yet, it is holding a forum that romanticizes the invasion, vice-consul Teng An-jun said.
The forum was organized by a revisionist group, which is aiming to correct the display of war-related materials that are inclined to denounce everything the Japanese military did before and during World War II.
The group applied to use the Peace Osaka Hall to hold a forum to discuss peace. A lecture by revisionist university professor and video materials to support their argument is part of the forum's schedule.
Despite the protest, Peace Osaka management says it can't cancel the event.
The group did nothing against our rules, and there are no grounds to refuse them the use of the hall, an official of Peace Osaka Hall said.
Peace Osaka opened in 1991 to tell the tragedies of war and the importance of peace to future generations.
Displays of damage to Asia-Pacific nations during Japan's colonial invasions from 1931 to 1945 are some of the biggest attractions of the museum.