Documents menu
Timeline: Bulgaria
BBC News Online, Monday 18 June 2001, 10:42 GMT 11:42 UK
A chronology of key events:
1943—King Boris, returning from a meeting with Hitler, dies under mysterious circumstances.
1944—Soviet army invades German-occupied Bulgaria. Soviet-backed Fatherland Front takes power.
1946—Monarchy abolished in referendum and republic declared. Communist Party wins election. Georgi Dimitrov elected prime minister.
1947—Nikola Petkov, leader of the opposition Agrarian Party, executed for conspiracy.
Soviet-style state
New constitution along Soviet lines establishes one-party state. Economy and industry sectors nationalized.
1949—Communist leader Georgi Dimitrov dies.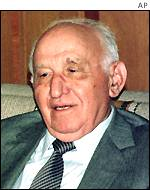 1954—Todor Zhivkov becomes Communist Party general secretary. Bulgaria becomes staunch USSR ally.
1968—Bulgarian troops take part in Soviet invasion of Czechoslovakia.
1971—Zhivkov becomes president.
1978—Georgi Markov, a BBC World Service journalist and Bulgarian dissident, dies in London after apparently being injected with poison from the tip of an umbrella.
1984—Zhivkov government forces Turkish minority to take Slavic names.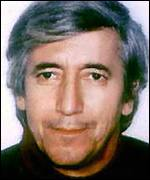 1989
—Mass exodus of Bulgarian Turks.
Zhivkov ousted by foreign minister Petar Mladenov. Multiparty system introduced. Opposition Union of Democratic Forces (UDF) formed.
Unstable governments
1990—Economic crisis. Communist Party reinvents itself as Bulgarian Socialist Party (BSP) and wins free parliamentary elections.
President Mladenov resigns and parliament appoints UDF's Zhelyu Zhelev.
BSP government collapses amid mass demonstrations and general strike.
1991—UDF wins election.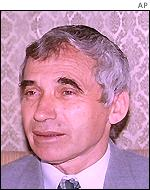 1992
—Zhelev becomes Bulgaria's first directly-elected president. UDF government resigns. Lyuben Berov heads non-party government.
Todor Zhivkov sentenced to seven years in prison for corruption in office.
1993—Mass privatisation programme.
1994—BSP returns to power in general election.
1995—BSP's Zhan Videnov is prime minister.
Economic turmoil
1996—Financial turmoil. Petur Stoyanov replaces Zhelev as president.
Bulgarian Supreme Court overturns Zhivkov's conviction.
Videnov resigns as prime minister and chairman of the BSP.
1997—Mass protests over economic crisis. Opposition boycotts parliament and calls for elections.
Interim government installed until elections, when UDF leader Ivan Kostov becomes prime minister.
Bulgarian currency pegged to German mark.
1999—Demolition attempts on marble mausoleum of first communist leader Georgi Dimitrov become national joke.
Bulgaria says it will close four Soviet-built nuclear reactors in return for talks on EU membership.
2000—Bulgaria's post-communist prosecutors close file on Georgi Markov case. In December Markov is awarded Bulgaria's highest honour, the Order of Stara Planina, for his contribution to Bulgarian literature and his opposition to the Communist authorities.